One year ago the tipping point came for the Pensotti family when their youngest child, Bo, spent the night at his grandmother's house. Pretty normal kind of a thing to do, except this was the first time Bo had spent the night away from his mom Kate and things didn't go well.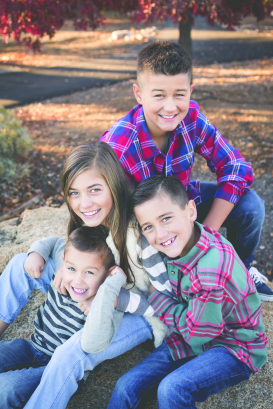 Bo was unable to let strangers (who in his universe included anyone other than his parents and, to some extent, his siblings) touch or soothe him. He had a meltdown at his grandmother's house and in the middle of it he hurt himself and was bleeding. His grandmother told his mother the next morning that he could only tolerate his sister Paige patting his back a little bit but that he finally fell asleep alone in the middle of the floor after hours of crying and screaming. It was time to get help.
The treatment provided by the UNR Early Childhood Autism Program (ECAP) gave a son back to his parents, integrated a brother into a loving family with three other children and created a world of possibilities for young Bo.
Using 30 hours per week of intensive treatment over the course of two years, followed by a classroom assistance program as kids integrate into school, the goal of ECAP is to normalize all aspects of a child's development. Focusing on the changes in behaviors needed so that integration into a regular classroom is possible, fully 50 percent of participating children have met this goal. Sierra Kids Foundation supplies scholarships to the families who need assistance in the program.
Though Bo and his parents are fortunate that his father Peter's workplace provides insurance for the treatment, the family supports the mission of the scholarship program and advocates for other children with autism and their families to benefit from the treatment provided by ECAP. Peter volunteers for the Wild West Shootout and Kate has gathered many raffle items for the event.
Peter and Kate were experienced parents when Bo came along, as they already had three older children: Troy, Paige and Logan. Peter remembers that Bo had mastered some dozen words by the time he was two and a half years old and believed that Bo was experiencing a speech delay. But other things concerned the parents as well – Bo didn't make eye contact, didn't like to be touched and he hit his mother hundreds of times a day.
At the pediatrician's office, Kate tried to explain that Bo wouldn't listen or pay attention. At first the doctor didn't believe it was an issue, but when she pointed out his behavior at that moment the doctor clapped his hands, and stomped his feet in an effort to get Bo's attention. Nothing worked and the family was on the way to a diagnosis.
Bo was diagnosed as autistic and Peter and Kate were told he was severely impacted. He was given occupational and speech therapy and Kate was told over and over that she needed to accept Bo's limitations.
Kate didn't want sympathy, she wanted a solution for her son. Bo was enrolled in a school program, his parents were told he would be given an I.E.P. and that a special bus could come pick him up every day. Kate remembers thinking: "He's not gonna' ride that bus."
Peter and Kate continued with the occupational and speech therapy, but it wasn't working. Running from appointment to appointment, splitting up parenting tasks because Bo could not tolerate being in public with his siblings, the family was pulled in many different directions. They tried to have Bo participate in social and youth sports functions but often had to remove him from public settings.
A friend mentioned Applied Behavior Analysis (ABA) and Dr. Pat Ghezzi. Peter and Kate made the decision to research ABA and ECAP and now Kate says, "We got the Golden Ticket." After leaving a self-contained classroom that included 12 other children living with autism, Bo's family is so grateful for the benefits of treatment that they're now on a mission to spread the word.
In retrospect, Kate says she understands now that Bo hit her when any strong emotion overcame him. He hit when he was happy, sad, frustrated, angry or wanted something and was unable to communicate his needs. Kate tried to figure out what he wanted and gave it to him, thereby reinforcing the negative behavior.
Bo doesn't hit anymore, thanks to ECAP, where Bo has been a student for a year. From a time when his tutors used a golf counter clicker to tally the number of times he hit his Mom every day, to the present where Bo is able to express his love by snuggling up to her on the couch while he peeks shyly out at the stranger in his living room, Bo has come so far.
Kate says someone coming into their home before they started ECAP would not have felt welcome, that Bo would scream at new people in his environment and act aggressively, now when the doorbell rings he runs to see who is at the door.
The program is intensive, 30 hours a week of in-home work with tutors who attend UNR the program. They become part of the family and Peter and Kate can't imagine life without them, although they are looking forward to Bo going to kindergarten.
They say the change in his behavior has been miraculous. Because he has learned to communicate, play with his brothers and sisters, interact with strangers, go out in public, and be successful interacting with kids his age at daycare, Peter and Kate have to occasionally remind themselves that Bo will still have four-year -old challenging behaviors at times and that this is normal.
The UNR Program
The program begins with parent and family training. Kate and Peter met regularly with Dr. Ghezzi and Bo's case manager, Ainsley Lewon, who coached them on a new way of interacting with Bo that included massive amounts of positive reinforcement. Peter says they were taught to ignore bad behavior and reward positive outcomes, they learned to give focus and attention to the behavior they wanted from Bo and an unintended result is that it made them better parents to all of their children.
Dr. Ghezzi helped them understand that, "Your cup needs to be emptied and refilled with knowledge about how to help Bo." It wasn't easy, early days found Kate huddled in a corner listening to Bo act out while his tutors patiently guided him toward acceptable behavior.
Change was quick and sure though, and his behavior, day over day and week over week progressed rapidly. Prior to treatment, Bo lasted fifteen minutes at the Rib Cook-Off before his Dad had to take him home and the rest of the family continued their outing. Kate and Peter were determined not to become isolated or to let Bo's diagnosis negatively impact the activities of other family members. Kate dreamed of being able to take all the kids to Disneyland, an idea that before treatment that would have been impossible.
Last March the family spent a day at the happiest place on earth, from 7:30 am until 12:30 am the next morning they rode all of the rides, waited in lines and had a great time with no more whining or crying than any other family of six.
When Bo's eldest brother Troy was introduced to ABA, he began using the methods himself and actually had to be reminded that he was a brother, not a tutor in the program. Now Troy brags about his brother, "Bo is amazing! He is kind, he plays now and we can get on the computer together."
Bo helps underscore this point by saying: "Minecraft!"